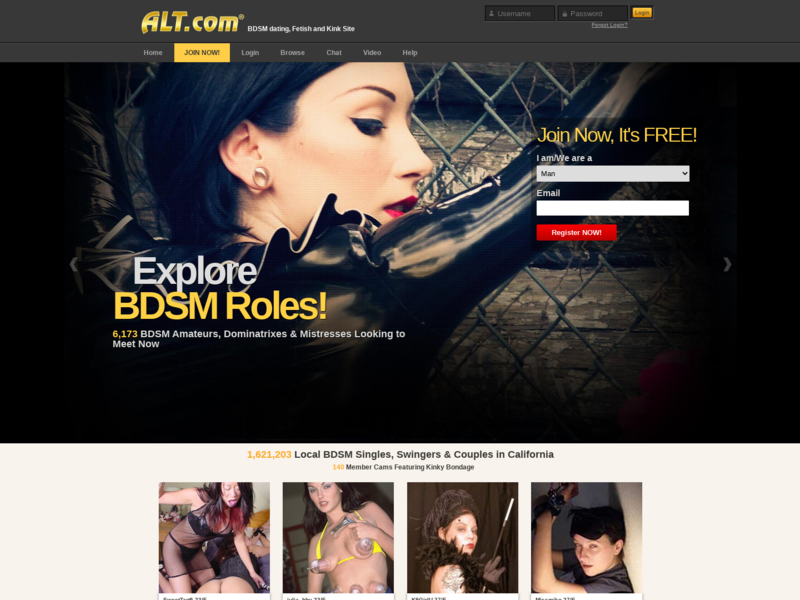 Alt.Com
Vanilla Fucking Is Fun, But Many of Us Want More Extreme Alternatives
When you first get into the online dating community you might think it's all one big group of people dating each other. What you quickly find out is that dating enthusiasts are really keen on segmenting ourselves to make it easier for us to all find people who have compatible interests. For example, if I want to find a girl who loves being suspended from the ceiling by a long pair of chains clamped to her nipples, I am unlikely to have much success if I try to find her on Christian Mingle. Instead I look to a site that focuses on kink and taboo alt sex play like Alt does!
Just What Does Alt Mean Exactly?
It's a misnomer to assume everyone at Alt is into bondage, BDSM and power exchange play. Sure there are plenty of members who get off on the whips and chains aspects of living an alternative lifestyle, but Alt also means much more than that. Anything alternative to the norms of mainstream missionary position sex can be included in your Alt profile.
Whether you are a chubby chaser, a cosplay aficionado, a furry or someone who gets off on watching your lover pop balloons with her bare ass, as long as it's legal you can fully express your fantasies and find others to share them with you as part of the Alt community.
What If I'm Shy or Only Have A Narrow Desire For Specific Play?
Alt has a wonderful community of open-minded adults and does a great job helping newbies find their way around. If you are shy, you'll meet plenty of extroverts willing to help you learn the ropes (pun intended), and even if you only want to find people who share an interest in one very specific niche form of sexual excitement, as long as you are polite about it everyone will respect your boundaries.
For example, if your main goal is to find a cosplayer capable of fulfilling your fantasy of having Wonder Woman tie you up with her golden lasso, there is nothing wrong with politely telling another person at Alt that you really aren't into golden showers. Just don't be rude about it… one person's gasp is another person's fetish afterall.
Bottom Line
If you want to find a traditional spouse, and are seeking middle of the road monotonous sexual gratification, Alt is a bad fit for you. On the other hand, if you are looking to truly explore what sex can be, and you are hoping to unshackle yourself from the old tired clichés others abide by in favor of living a more vibrant life full of orgasmic extremes you owe it to yourself, and your genitalia to check out Alt right now!